COVID-19 Insurance Update
May 4, 2020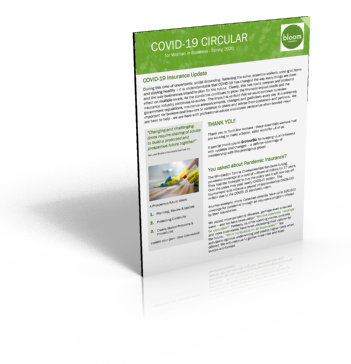 During this time of uncertainty, social distancing, flattening the curve, essential workers, staying at home and staying healthy – it is understandable that COVID-19 has changed the way many things are done and the way businesses intend to plan for the future. Clearly, this has had a complex and profound effect on multiple levels. As the pandemic continues to grow; the financial impact swells and the insurance industry continues to evolve. The impact is so fluid that we must continue to review government regulations, insurance announcements, changes and guidelines every day. It is extremely important for brokers and insurers to continue to share and advise their customers and partners. We are here to help – we are here with professional advice and claims assistance when needed most!
You asked about Pandemic Insurance?
The Wimbledon Tennis Championships has been buying pandemic coverage at a cost of millions of dollars for 17 years. They had the foresight to buy the policy and it will now pay off. Over the years they paid nearly CAD$45 million. The tournament is to receive a payout of approximately CAD$200 million due to the COVID-19 pandemic claim. Another example: many Canadian dentists have up to $20,000 coverage for pandemic through an insurance program offered by their association. We expect more pandemic illnesses, perhaps even a second wave – and we have been asked "Will this pandemic coverage be expanded?" Perhaps, as other sporting events, concerts and more businesses have been discussing their options for the future. "Will it be feasible for all businesses?" We anticipate rigorous underwriting and predict higher costs when offered. We will continue to gather more intel and keep everyone informed.